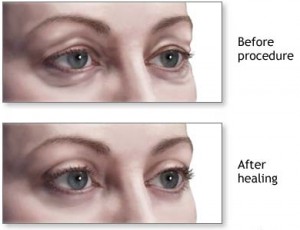 Has anyone asked you lately – are you OK? You look tired… BUT you feel fine?! This is the classic question for the patient who is nearing the time for eyelid surgery.
Eyelid surgery will freshen up the eye area, making you appear more rested, alert and even happy!  And believe me, you will be HAPPY with how you look after this surgery.
The procedure can be done on just the upper eyelids or both the upper and lower.
Many patients have the upper eyelids procedure done under a minimal anesthesia, allowing them to recuperate faster and get back to work in under a week.
The lower eyelid area is something that needs more medical attention to correctly diagnose the problem– sometimes it is too much fat, too much skin, and perhaps not enough of either. For this reason, it is imperative to have a consultation with a board-certified plastic surgeon well skilled in these areas.
For examples, please see our eyelid surgery before and after photo gallery .