Male Body Contouring
Conveniently located to serve the areas of New Bern, NC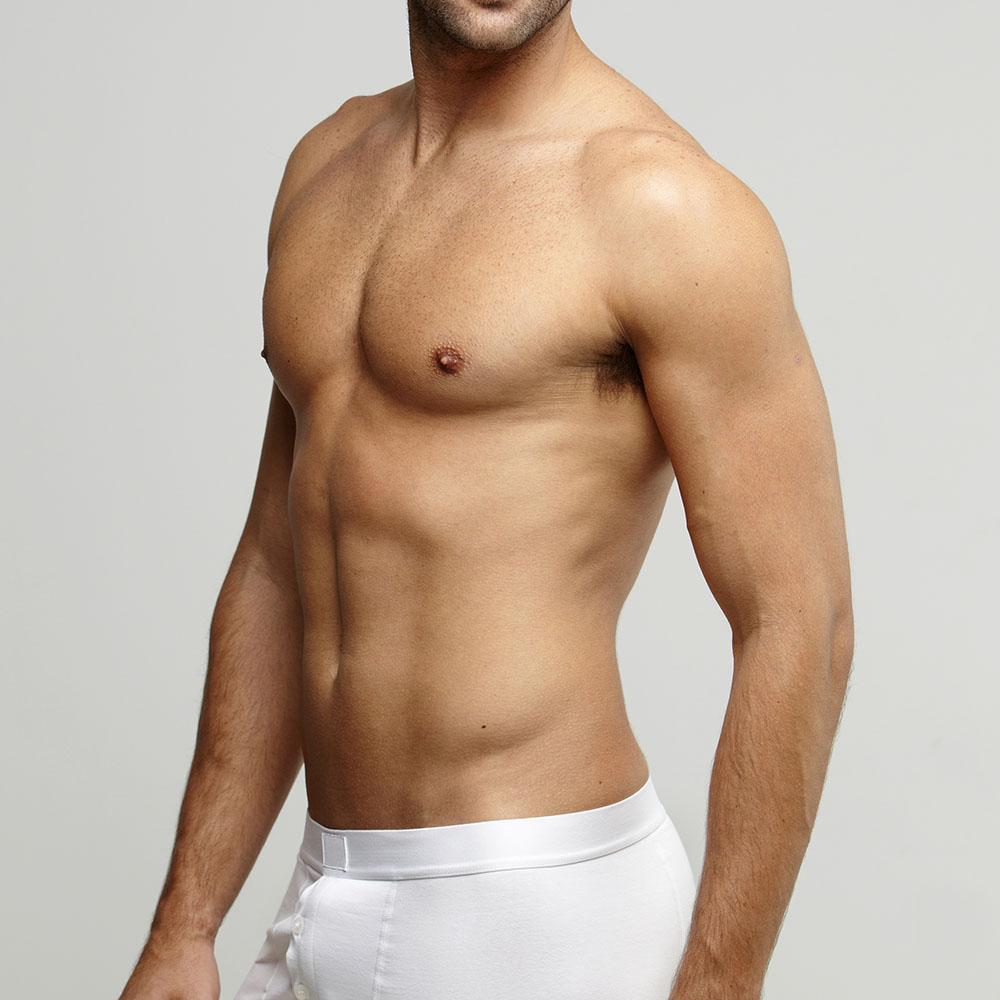 Liposuction in men is different than in women. The areas where stubborn fat tends to accumulate in men are usually the neck, chest, abdomen, and flanks (love handles). Also, men and women have different types of fat. The fat in men is typically more fibrous and difficult to remove. Our SafeLipo technique uses special instruments (a more aggressive basket tipped cannula and a power-assisted handle) to allow for easier removal of fibrous fat. Fortunately, men usually have thicker skin and this allows for a nice contour after the fat is removed.
Liposuction is not a weight loss procedure, but a contouring procedure. In fact, most of our patients are in good health and physically fit. However, due to genetic reasons, some people may still suffer with disproportionate contours due to localized and stubborn fat deposits. At the Zannis Center for Plastic Surgery in New Bern, NC, we specialize in three different varieties of liposuction procedures, making us the go-to source for targeted fat extraction throughout our region. Dr. Zannis has extensive experience in treating men and understands the distinct differences from female liposuction.
Our Liposuction Procedures
Liposuction slims and reshapes specific areas of the body by extracting excess fat deposits, improving your body contours and proportion, and ultimately enhancing your self-image. From tumescent liposuction procedures to SmartLipo® and SAFELipo® surgeries, we have the right technique for you. The Zannis team has the cutting-edge equipment and specialized experience needed to help you achieve your dream results. We'll target your toughest fat deposits that diet and exercise alone can't get rid of!
Liposuction may be used to reduce localized fat deposits from many areas that are frequently of concern to men:
Abdomen (Belly)
Love Handles
Chest Area
Cheeks, Chin, and Neck
Upper arms
Back
Calves and Ankles
Expectations
Convenience: We'll do our best to work with your schedule when it comes to a consultation and pre-operative preparations. If you have a hard time making an in-person appointment, feel free to meet with Dr. Zannis through a VIRTUAL CONSULTATION.
Comfort: With IV sedation, you will be totally asleep for the duration of your liposuction procedure. We don't believe in awake surgery or painful surgery! Our private surgical facility is very discreet and comfortable for both you and your waiting family member.
Minimal Downtime: You will only be out of work the day of your procedure. You can drive and get around the next day. Although your treatment areas will be sore, over-the-counter ibuprofen is normally all that is needed for pain control. You can return to the gym within 2-4 weeks in most cases.
Privacy: At the Zannis Center, we are obsessed with privacy. Absolutely no one outside of those immediately caring for you will know that you are here. We even offer pseudonym registration for higher profile patients or anybody who requests complete anonymity when visiting our office.
Our goal is to make this process as quick and easy as we can with minimal disruption to your everyday life. Ready for more information about our liposuction and body contouring capabilities? Just call or text us at (252) 633-1197 today to talk to our expert team and schedule your personal consultation!