Tummy Tuck
Conveniently located to serve the areas of New Bern, NC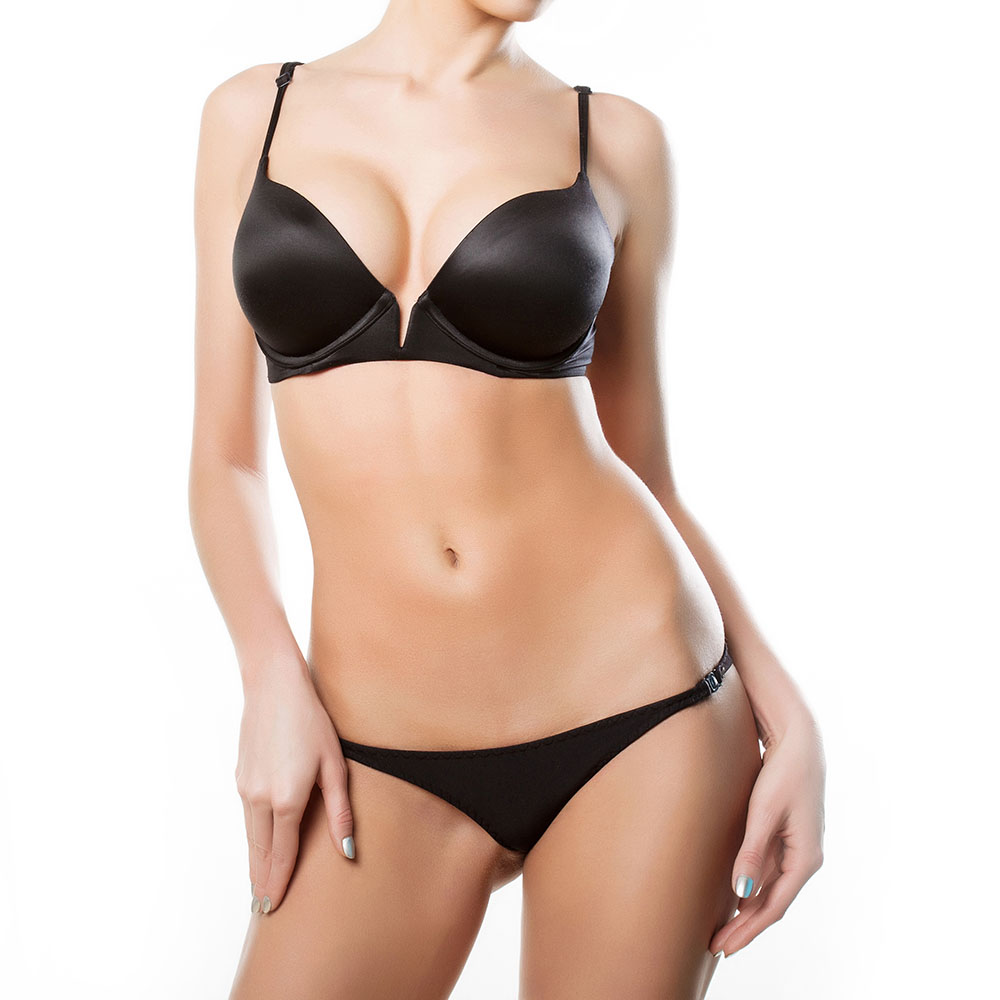 A tummy tuck, also known as abdominoplasty, is a surgical procedure that removes excess abdominal skin and strengthens the muscles underneath. Popular with patients dealing with a post-pregnancy body, or simply signs of aging in the midsection, this procedure can restore a tummy that has experienced extensive stretching into one more toned and aesthetically pleasing. 

Before and After Photos
To see if a tummy tuck is right for you, schedule an appointment with Dr. Zannis in New Bern by contacting his facility or calling (252) 633-1197. 
About Tummy Tucks
Whether caused by pregnancy, significant weight loss, or simply genetics, excess abdominal skin and weakened abdominal muscles can be frustrating and difficult to address through diet and exercise alone. However, there is a solution: abdominoplasty.
After significant weight changes, abdominal skin commonly stretches out and sags, and the abdominal muscles, known as the rectus abdominis, shift and extend past their intended position. An abdominoplasty repairs and rejuvenates this area, restoring the contoured shape of the waist and smoothing the skin for a more toned look.
At Zannis Plastic Surgery, we understand that each patient is unique, and we take the time to customize every tummy tuck procedure to meet our patients' specific needs and goals. Our priority is to provide you with natural-looking results that enhance your body shape and restore your confidence.
Benefits of a Tummy Tuck
The benefits of a tummy tuck are as follows:
A smoother, more flattering abdomen
Restores pre-pregnancy contours
A more aesthetically pleasing waist-to-hip ratio
Boosted confidence while wearing certain clothes or bathing suits
Potential to improve posture and lessen back pain
Candidates for a Tummy Tuck
Good candidates for a tummy tuck:
Have excess skin around their abdomen
Have given birth and aren't happy with the appearance of their midsection
Have realistic expectations about what the surgery can accomplish
Are willing to quit all use of tobacco products
Have no serious underlying health concerns
Will stay around the same weight as they are now
Are not planning on having more children
Personal Consultation
In your consultation with Dr. Zannis, he will ask you exactly what you are unhappy with to get a better picture of your goals. This is your opportunity to ask him any questions that you might have, taking care to focus on your goals and expectations to ensure that you will be happy with the outcome. He will explain to you in detail what your procedure will include and how it will be completed.
As with all surgical procedures, please make Dr. Zannis aware of any past surgeries or health complications, and any medications you are currently taking.
How to Prepare for an Abdominoplasty
Refrain from any use of tobacco products
Do not use NSAIDs or any medications that thin your blood
Limit your consumption of alcohol
Find a trusted adult to be your caretaker after the procedure
Fill your prescriptions ahead of time
Try and fill your fridge with healthy and nutritious foods
Prepare your home for recovery
Tummy Tuck Procedure
Traditional Tummy Tuck
During the tummy tuck procedure, anesthesia will be administered to ensure your comfort and safety. Dr. Zannis works closely with experienced anesthesiologists who prioritize patient well-being throughout the entire surgery. Once under anesthesia, Dr. Zannis will strategically place incisions in inconspicuous areas, such as along the bikini line, to minimize visible scarring. The length and pattern of the incisions will depend on the extent of correction needed.
If muscle repair is necessary, he will mark the muscles and start suturing them back toward the midline. He will then extract the extra skin and fat and suture the lower incision. Depending on the patient's treatment plan, the belly button may or may not be resituated. At this point, typically two drains will be placed in small incisions below the new line of sutures. These help extract trapped blood and fluid from the abdomen as it heals. (1)
Tummy Tuck with Liposuction (Lipoabdominoplasty)
Dr. Zannis often uses liposuction to remove stubborn fat in the abdomen. This is done using a thin tube called a cannula placed through small incisions. He will then separate that section of skin from the abdomen and use a small cauterizer to dissect excess fat from the area. (1)
"Mini" Tummy Tuck
If the patient has only a small amount of excess skin, and the area they want to change is mostly located underneath the belly button, they could be a good candidate for a mini tummy tuck. Sometimes called a partial abdominoplasty, this procedure uses the same techniques as a regular abdominoplasty, but focuses on the lower abdomen. (2) It is appropriate for patients that have very little extra fat, but may have excess skin from giving birth or losing weight. It can also be used if the ab muscles do not need to be repaired or repositioned.
Drainless Tummy Tuck
Dr. Zannis also offers a drainless tummy tuck that is performed in a way that avoids the use of drains. He uses a progressive and involved tension suturing technique, allowing the healing process to be more comfortable. It gets rid of the space underneath the skin that usually accumulates fluid that used to need drains. (3)
Recovery After a Tummy Tuck
After you receive a tummy tuck, you will need at least 2 weeks of downtime before returning to work. It can take up to 6 weeks for you to be cleared for strenuous activities like exercise. During your recovery, it will be necessary to rest as much as possible to make sure your incision heals properly.
Dr. Zannis will prescribe pain medication for you to take, and you must stick to the recommended dosage and timeline to keep comfortable. He will also provide you with a compression garment to wear around your abdomen. You will experience swelling and bruising, particularly on and around your incision, during the first postoperative week. It is important to try and incorporate easy movements like walking during your recovery to encourage healthy blood flow. This will help your healing process.
You will also experience some tightness around your abdomen, since a portion of your skin will now be gone, but after the first two weeks you should be able to start standing up straighter and more comfortably.
Results
Once through the healing process, the results of a tummy tuck can be impressive. You will be able to appreciate your newly-contoured midsection and have the opportunity to wear tighter-fitting clothing. Your newly restructured core will be stronger and more supportive, which may lead to reduced back pain and increased mobility. Your new tummy will give you the confidence to be more comfortable in your body.
Complementary Procedures to a Tummy Tuck
Breast Surgeries
After pregnancy, some patients may consider breast augmentation. Usually involving implants, this procedure increases the size of the breasts and improves their shape for a younger silhouette. If the breasts are situated in a lower position, are sagging, and the position of the nipple is lowered, patients may consider a breast lift or a breast reduction to restore and rejuvenate their breasts.
Labiaplasty
Labiaplasty is a surgical procedure designed to reduce the size and improve the symmetry of the labia minora. Using advanced techniques, Dr. Zannis carefully trims and reshapes the excess tissue to create a more aesthetically pleasing appearance. This procedure can also alleviate discomfort caused by elongated or asymmetrical labia.
Brazilian Butt Lift
A Brazilian butt lift, also known as buttock augmentation, enhances the shape and size of the buttocks. This procedure has gained popularity in recent years as more individuals desire a fuller, rounder, and more youthful-looking backside. During a Brazilian Butt Lift, fat is harvested from another area of your body using liposuction. This excess fat is then carefully processed and purified before being strategically injected into the buttocks to create a natural and harmonious shape. The procedure not only adds volume to the buttocks but also improves overall body proportions, giving you a more balanced and attractive silhouette.
How Much Does a Tummy Tuck Cost in New Bern?
The cost of this procedure varies from patient to patient and is dependent on their unique treatment plan. Dr. Zannis will give you all the financial information necessary for you to make your decision. For more information or to book an appointment with him at your convenience, contact the practice online or call (252) 633-1197 to get in touch.
FAQ
How long will my tummy tuck results last?
As long as the patient stays at a relatively healthy weight after the procedure and doesn't have any more children, the results of a tummy tuck have the potential to last a lifetime. Maintaining a healthy diet and exercise routine can also help sustain your results.
Can a tummy tuck get rid of stretch marks?
Although a tummy tuck procedure cannot erase stretch marks, it can remove stretch marked skin, leaving a smoother, more aesthetically-pleasing appearance.
Can I combine other procedures with my tummy tuck?
Yes! In fact, a customizable mommy makeover procedure usually involves a tummy tuck and other procedures such as breast augmentation, breast lift, liposuction, and labiaplasty.
References
Regan JP, Casaubon JT. Abdominoplasty (Tummy Tuck). PubMed. Published 2020. Accessed October 10, 2023. https://www.ncbi.nlm.nih.gov/books/NBK431058/
Eric R. Mariotti M | C, Tuesday J 25. How the tummy tuck has improved over the decades. American Society of Plastic Surgeons. Accessed October 10, 2023. https://www.plasticsurgery.org/news/blog/how-the-tummy-tuck-has-improved-over-the-decades3.
O'Kelly N, Nguyen K, Gibstein A, Bradley JP, Tanna N, Matarasso A. Standards and Trends in Lipoabdominoplasty. Plastic and Reconstructive Surgery Global Open. 2020;8(10). doi:https://doi.org/10.1097/GOX.0000000000003144