Facelift Surgery – AllureLift™
Conveniently located to serve the areas of New Bern, NC
You're in the prime of your life. You're young in spirit and beautiful. With a little help, we can defy gravity together!
If you are bothered by wrinkles, saggy skin of the jowls and neck, droopy eyelid skin, dark spots and sun damage, or other signs of aging in your face, you may be a great candidate for the AllureLift™.
This is a custom facelift procedure designed by Dr. Zannis to meet the needs of patients, usually in their 50s and 60s, looking for correction of damage caused by time and environmental factors.
Look the way you feel. NOW IS YOUR TIME!
Before and After Photos
Dr. Zannis devised the AllureLift™ to fully correct the laxity, surface irregularities and wrinkles in the face by combining a structural and superficial approach:
Using a hidden incision around the ear, access is gained to the subcutaneous plane of the face and neck.
The SMAS muscle layer, responsible for support of the face, is tightened and lifted, anchored to a higher location that prevents sagging.
Excess skin is trimmed and the lower face, jawline, and neck are left smooth and natural in appearance.
The eyelids are lifted and excess skin and puffy fat removed to provide a refreshed appearance to the eyes.
CO2 lasering is performed to erase fine lines and wrinkles as well as sun spots and other imperfections. This is especially helpful in the areas around the mouth and eyes.
The AllureLift™ is designed to correct all of these aging features, restoring a more youthful, rested appearance with uplifted contours and improved tone in facial skin and underlying muscle.
Dr. Zannis always aims for the most natural-looking result that restores a normal youthful look and gives our patients a renewed feeling of self-confidence and youthful vigor.
The Facelift Procedure
Typical incisions for a facelift surgery begin at the hairline above the temple, continuing along or just inside the ear, and ending behind the ear. The incision incorporates a Z-plasty to hide the scar and prevent hair loss around the scar.
The incision is made as short as possible to allow access to tighten the underlying tissue, enables us to remove excess fat, and helps reduce sagging skin. This should last 10-15 years. Without this critical step, a facelift will not last more than a year or two.
Note: You cannot use any nicotine products for 6 weeks before or after a facelift.
A second incision under the chin is sometimes necessary for liposuction of the chin / neck to assist with the removal of excess fat deposits.
The eyelids are then addressed by performing an upper blepharoplasty, but lower eyelid bags can also be removed.
Finally a fractionated CO2 laser is used to smooth out and even the skin complexion.
You are asleep for this entire procedure using IV sedation, an anesthetic technique similar to what is often used for endoscopy or oral surgery.
Results & Recovery
Following your facelift procedure, swelling and bruising should subside within 2 to 4 weeks. Final results may be apparent in as few as 1 to 2 months. Incision lines will continue to refine and fade in appearance for 1 year after your surgery.
Dr. Zannis provides all of his patients with complimentary Biocorneum scar gel, the number one prescription scar treatment.
If you'd like further information, or if you're ready to get started with the Zannis Center for Plastic Surgery, all you have to do is contact us today through our website. Or, you can schedule a virtual or in-person consultation as soon as possible with our on-line scheduler.
During your consultation, we'll talk with you at length about your facelift options, answer all of your questions, discuss your goals, and ensure all of your needs are met.
FAQ
Is the AllureLift™ a real facelift?
Dr. Zannis offers a few different types of facelift procedures, and they are all true, long-lasting face and neck lifts. We do not perform thread lifts or lunchtime lifts that simply tighten the skin for a mild improvement that will fail in less than a year.

The AllureLift™ is a true facelift with SMAS plication and skin excision with additional features that enhance your overall result. These include the z-plasty hidden scar technique, the eyelid lift, and skin resurfacing with CO2 Laser.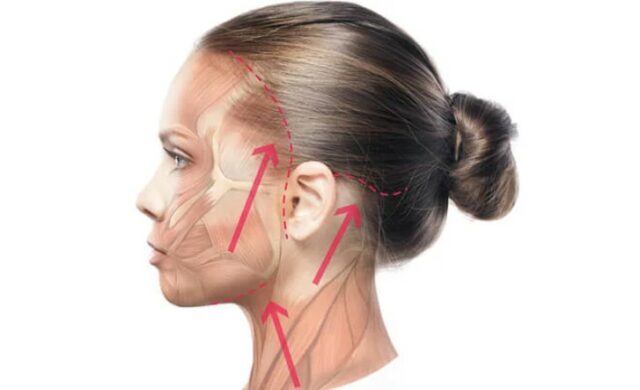 How long will my face or neck lift last?
On average, a properly-done face / neck lift should last about 10 years. Some patients even get up to fifteen years before skin laxity and sagging recurs.

You can improve the longevity of your result by practicing good skin care, avoiding excess sun exposure and nicotine, and regular maintenance visits for non-invasive facial procedures like laser and radiofrequency microneedling.
How much does the AllureLift™ cost?
Of course you don't want to select your surgeon purely based on cost, but the AllureLift™ provides a great amount of value for your investment. The average price is $14,950 for all components of the procedure. If done separately, the total cost would be about $18,000.

This is a significant investment in yourself and your happiness. We are happy to discuss financing options as well if you are interested.
Dr. Zannis has designed an excellent scar placement to hide the final facelift scars. They are placed in the temple area using a z-plasty technique that breaks up the scar.

The incision is also made around the creases of the ear so that there is essentially no visible scar once healed. We also provide every patient with complimentary scar cream to help fade the scars.
In the picture below, the patient has healed from her facelift and the scars are nearly invisible.